Our coastline offers a formidable landscape as the setting for unforgettable moments. The diversity of its nature is so rich that it gives us almost personalized places for each one. Whether you want to be in a quiet place, where you can disconnect from the world, or if you are looking for more bustling enclaves, here you will surely find the appropriate space for you. 
Undoubtedly, the invention of the Blue Flags, back in the mid-80s of the 20th century, has revolutionized the beaches and the municipalities that display this distinctive.
In this difficult year of 2021, Fuerteventura has managed to raise 10 blue flags, those of Corralejo Viejo, Grandes Playas, La Concha, in the municipality of La Oliva; Butihondo, Costa Calma, El Matorral, Morro Jable, in the municipality of Pájara; and Playa Blanca, Los Pozos and Puerto Lajas, in the capital of the island. 
What are the Blue Flags?
The Blue Flag is a badge awarded each year by the European Foundation for Environmental Education (FEE) to beaches and ports that meet environmental and facility conditions. 
The criteria for obtaining a Blue Flag are reviewed and agreed annually at the international level. They are divided into four blocks: Information and Environmental Education, Bathing Water Quality, Environmental Management, Safety and Services.
What does it mean for a beach to have a Blue Flag?
When a beach raises its Blue Flag, it means that the visitor, national or foreign, will know that a series of conditions are met on that beach that guarantee the excellent quality of its waters, which has information panels on the beach and protected natural areas Nearby, it has containers for proper waste management: paper, containers, glass, etc. It has first aid equipment, surveillance and first aid service, as well as easy access for disabled people and people with reduced mobility. 
We do a quick review of the 10 beaches of Fuerteventura that have achieved the Blue Flag in 2021.
Old Corralejo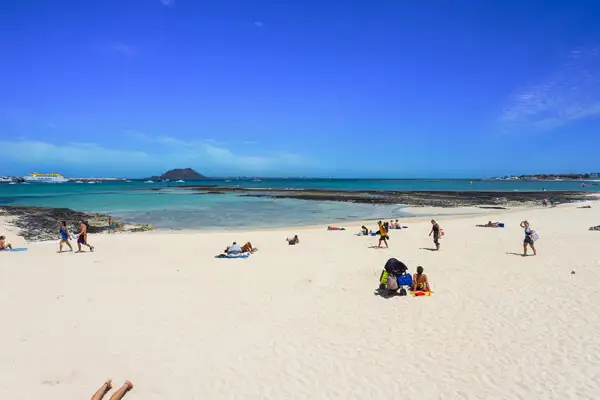 This urban beach of 130 meters in length and an average width of 21 meters, is located near the historic center of the town. Its level of occupation is high. Its golden sand and calm waters make it ideal for families. 
In it there are water sports schools in case you dare to learn surfing, or windsurfing. 
In the vicinity of this beach there is a good variety of restaurants.
Grandes Playas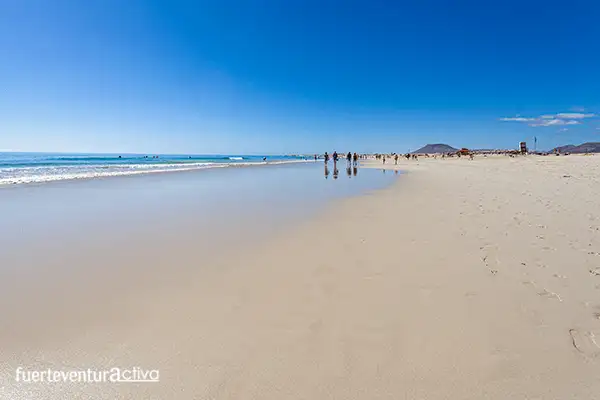 The Grandes Playas de Corralejo is the most emblematic enclave of the municipality of La Oliva. 
It is a succession of beaches of white and golden sand that extends up to 3.5 kilometers in length, with an average width of around 60. A good part of these spectacular beaches are located within the Natural Park of the Dunas de Corralejo, a beautiful and exceptional natural setting. 
Its waters, clean, transparent and of intense turquoise colors treasure a wide marine biodiversity, which is worth knowing.
La Concha
La Concha beach is located in the charming town of El Cotillo. It is one of the favorite beaches for families in the north of Fuerteventura. It has a length of 200 meters and a width of 50 meters. Its sand is white and the waves are soft. This beautiful beach with clear water invites us to stay for the whole day and enjoy its spectacular sunsets.
Butihondo
Butihondo Beach is located north of Morro Jable, between the Barranco de Esquinzo and the 
Butihondo valley, next to the Esquinzo urbanization, which is why it is considered a semi-urban beach. 
The beach is bounded, at its ends, by two small natural cliffs, the highest cliff being the one that adjoins Morro Jable beach. 
Butihondo beach stands out for its tranquility, its fine golden sand and its crystal clear waters. It has a length of 1.5 kilometers and its average width is around 45 meters.
Costa Calma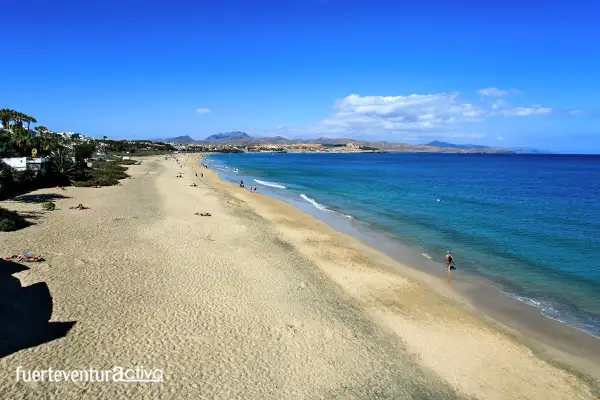 The urban beach of Costa Calma forms a wide bay of more than 2 kilometers in length with a width of 40 meters. This golden sand beach is somewhat windy during certain times of the year, but the sea remains calm. Its clean and transparent waters make its seabeds attractive for snorkelling, windsurfing or other water sports.
El Matorral and Morro Jable
The beaches of El Matorral and Morro Jable are located in the town of Morro Jable. They are naturally linked, forming one of the longest tourist beaches in Fuerteventura. More than 4.5 kilometers in length, and 60 meters in width. It is ideal for long walks on the seashore. 
In these beaches, in addition to its fine golden sand, the Saladar de Jandía wetland stands out, an enclave of Scientific interest where endemic plants and animals of Fuerteventura live.
Playa Blanca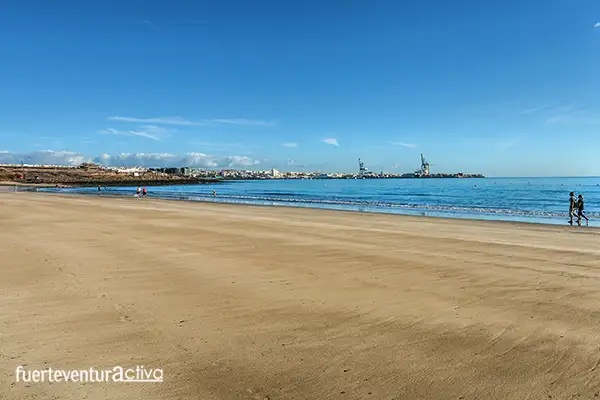 Playa Blanca is located just 2 kilometers from the capital of Fuerteventura, towards the airport. Its shore of fine golden sand stretches for a kilometer, while the width is around 30 meters. This part of the capital's coastline is one of the best surf spots that you can find near Puerto del Rosario. 
Los Pozos
Los Pozos or Playa Chica is the most popular urban beach in the island's capital. It measures just over 130 meters in length and its width barely exceeds 30 meters. 
Behind him is the maritime avenue with a pedestrian area and, above all, bars and restaurants where you can taste the delicious island food. The beach is protected by a breakwater, which makes its waters very calm.
Puerto Lajas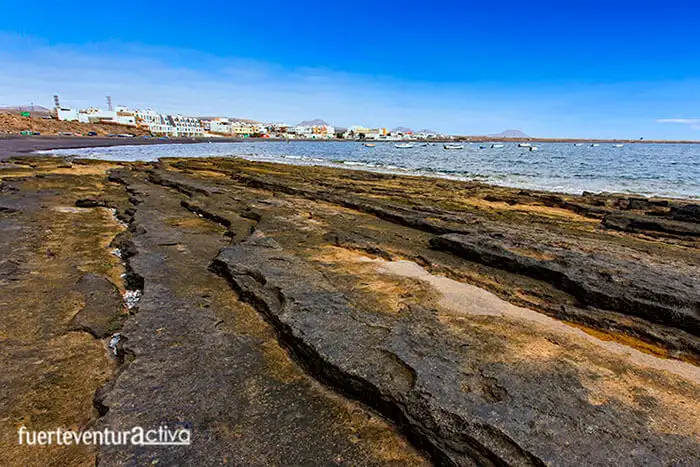 Puerto Lajas beach is an urban beach located about 3 kilometers north of Puerto del Rosario.
It extends over 800 meters in length, maintaining an average width of 15 meters. It is a hard beach, made up mostly of black sand and pebbles. 
The constant wind over it raises a moderate swell, which offers the ideal conditions for practicing water sports such as surfing, windsurfing, kitesurfing and paddle surfing. 
The best area for bathing is at the end, towards the north, since it is more protected from the waves.
Fuerteventura1