The isolation and lack of doctors in Fuerteventura once favored the use of practices that we could frame within quackery and popular wisdom. Healers and santiguadores (both men and women) were in charge of alleviating the symptoms of certain diseases. 
In a rough way, we would say that the sanctiguadores would be comparable with the sorcerers, since they use certain strange practices to achieve their objectives. The healers use their knowledge of herbal medicine and folk remedies to reduce the symptoms of the most common diseases of the island's residents, mainly those that had to do with kidneys, respiratory system, wounds and trauma.
At FuerteventurActiva we have already talked, on other occasions, about the use of tunos and aloe vera as medicinal plants. Also of the use, since pre-Hispanic times, of gorse, tabaibas and cardones. 
Today we go a little deeper into other plants used in the popular medicine of Fuerteventura. Of course, you have to be aware that this small list, as well as its supposed charitable actions, are aimed at spreading the rich ethnographic heritage of the island. It cannot be taken as a medical or scientific reference.
Clin Herb
Herb Clin, Ajuga iva for botanists, is one of the most popular plants used to treat different ailments. 
In infusions, and in combination with other plants such as eucalyptus or pennyroyal, it was used as an anticatarrhal and to reduce symptoms of the flu, pneumonia, bronchitis, etc. 
It was also a good pain reliever used to alleviate headaches, toothaches, and even nerves. 
Although this plant requires some humidity, it does well in clay soils, dry riverbeds, slopes, and abandoned farmland. It was more or less abundant in Fuerteventura and was available to everyone.
It is a herbaceous perennial and annual plant. It can reach 50 cm in height. Its bilabiated pink-purple or yellow flowers stand out, as well as its hairy leaves in one of the varieties found on the island.
The rue
Rue is an interesting species from a medicinal point of view. The Greeks considered that it had the power to nullify the spells and the threats of the witches. Rue branches are still being planted and placed on the doors of majoreras houses for this purpose. 
Rue contains "rutin", a flavonoid that has protective and tonic qualities for veins and blood vessels. Used as a nervous tranquilizer, it calms panic attacks, hysteria and anxiety. It is invigorating for the nervous system, anti-inflammatory and antihistamine. 
It is also a good remedy against lice and other external parasites. For that, you have to wash your head with warm water, in which the rue has previously been boiled, and then you have to cover your head for an hour.
Red vinegar
When the red vinegar (Rumex vesicarius) brings out its globose fruits to shine, it becomes one of the most colorful medicinal plants that we can find in Majorero fields 
The young leaves of Rumex vesicarius serve both to relieve thirst, and to use as a refresher or food. It is a plant commonly used in different areas of Western Sahara, Tunisia and Libya. It is consumed both raw and cooked. 
Due to its high content of flavonoids, tannins, alkaloids, saponins, anthraquinones, lutein and β-carotene, this plant is widely used both in traditional medicine and in popular medicine.
In Canarian folk medicine, it is used mainly in herbal teas and juices, they are the well-known "cruet waters". It is used to cut pneumonia or to relieve colds. 
The whole plant is also ingested to treat liver diseases, constipation or poor digestion. 
It is also used to treat heart problems, such as pain reliever, spleen diseases, flatulence, dyspepsia, vomiting, asthma, bronchitis and skin conditions such as scabies, very common in the past.
Altabaca
Altabaca is one of the plants that had the most use in traditional Canarian medicine and that nowadays it is no longer used. 
The altabaca, altabaquera, or flyswatter, is a perennial plant with a woody base and straight stems with a scent of resin, which can reach up to a meter and a half in height. It is characterized, above all, because it has a sticky-viscous substance on stems and leaves. The flowers are small and yellow.
 It was used as a fly-catcher. A good handful of whole branches were hung from the ceiling. The flies were attracted by the viscous substance, in which they were trapped. In popular medicine it has had a fairly generalized use, as a diuretic, febrifuge, analgesic, astringent, stomachic, healing, Vulnerary, and antirheumatic. 
By cooking its stems and leaves, it is used to disinfect and heal the wounds of people and animals.
Canarian Tea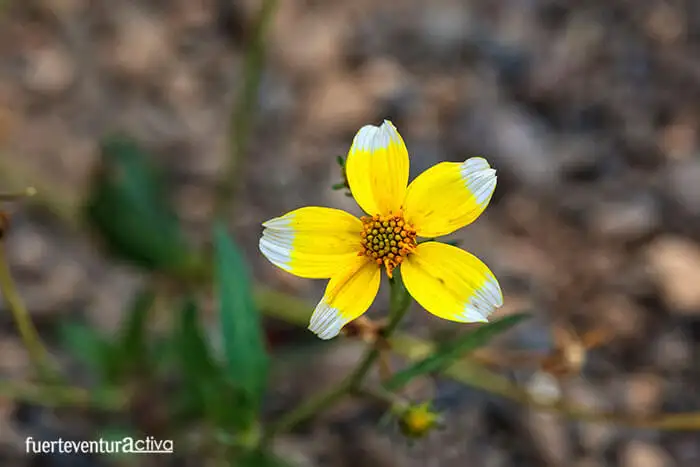 Although Bidens Aurea is called Canarian Tea, its origins are in North America. It was possibly introduced for its medicinal and ornamental use. 
These plants have been known, since ancient times, for their digestive, diuretic and laxative properties. 
They have an analgesic effect, it is used to alleviate headaches, and reduce the symptoms of colds. 
Formerly, an infusion was made with the fresh leaves and flowers of this plant, for disorders of the digestive system. It also has relaxing effects, making it a good substitute for linden.
Lettuce or sea chard
Sea lettuce is a biennial herbaceous plant that we can find on our coasts. It is also called a napkin, or napkin holder, a name that comes from its old use, as a natural substitute for hand and mouth hygiene, etc. 
Sea lettuce has medicinal use thanks to its antiscorbutic, stomach stimulating and menstruation regulating properties. 
This list is only a minimal representation of the popular lore of the island. Undoubtedly, many more plants used in the traditional medicine of Fuerteventura have remained in the inkwell. 
If you are interested in this topic, subscribe to our newsletter and keep an eye on the blog posts.
Fuerteventura3 Fuerteventura8