Sport events have recently become an excellent claim for tourist destinations, such as Fuerteventura, to be discovered by a wider and more diverse public. 
Fuerteventura, in addition to having some wonderful beaches, is also known for being one of the best places in Europe for practicing water sports, and for having an ideal landscape for runners and bikers.
Sports tourism in Fuerteventura.
Sports tourism is gaining new followers. Encourage travelers to visit new locations for adventure, exercise, and competition. Foreigners, peninsular and Canarian residents are encouraged to come to our island with the main motivation of practicing some sport. 
We could say that there are two ways of doing sports tourism in Fuerteventura: those visitors who, in addition to traveling, want to discover the island at their own pace, through active tourism. They travel trails both on foot and by bike, sign up for surf lessons, dive … In short, they don't stop for a moment.
Other travelers come to Fuerteventura to participate or watch certain sports events. 
These sporting events become ideal meeting points to meet other people with similar interests. 
The athlete who travels to compete in a specific sporting event usually does so with family and friends. It constitutes an important economic boost for the municipalities that host them and local companies. Therefore, organizers and promoters seek that the event attracts visitors from outside the area, whose expenses can generate value and return on the local GDP. Sporting events in Fuerteventura
Fuerteventura has dozens of consolidated sports events that, due to the current health situation caused by Covid-19, have changed their date. If you like competition and prepare your agenda according to the sports calendar, here are some of the most significant events
Fuerte Bike – The desert challenge.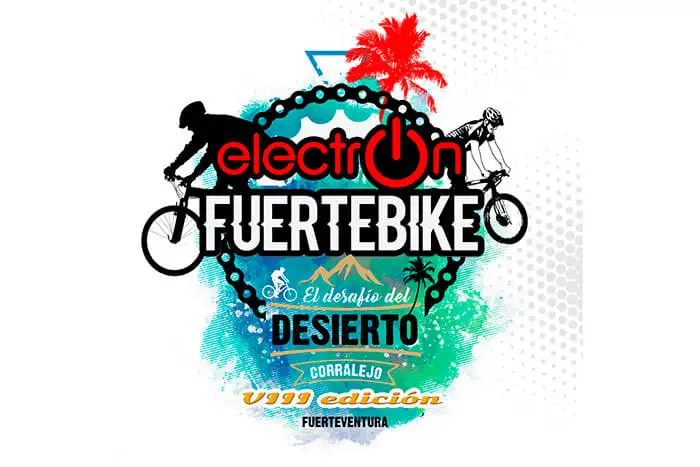 It is an event that has established itself in the calendar of MTB (mountain bike) lovers. With more than 8 editions, each year the number of participants who come to this event is greater 
1,300 athletes signed up in 2021. 
This competition is developed entirely by the municipality of La Oliva. With an incomparable setting of volcanic landscapes, cliffs and dirt tracks that run along the sea. 
The route is simple and technically feasible, although it is tough due to the wind and heat. It has two modalities: 1/2 Marathon (45 km), and Marathon (80 km)
Official page and registration
FudeNaS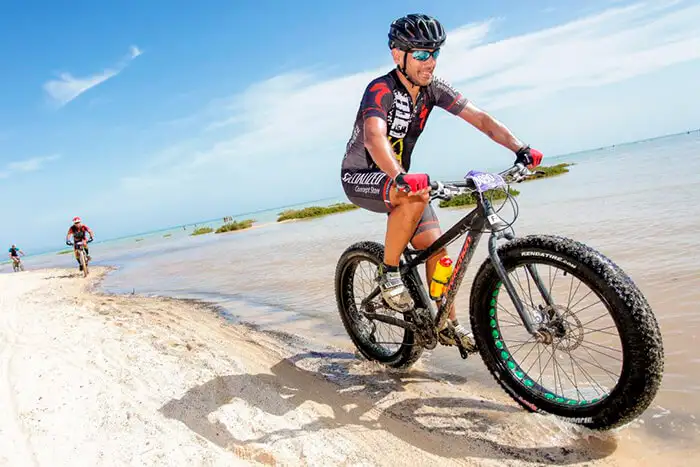 FudeNaS is the acronym for Fuerteventura from North to South. So, you know, if you sign up, you will travel the island from end to end, from Corralejo to Morro Jable, pedaling more than 150 km.
 FudeNaS is the quintessential civic-military MTB event in the Canary Islands, and has already been running for 14 editions. It takes place in two days. Thousands of participants usually attend. It is estimated that in 2021 there will be about 3,000 runners.
Official page and registration
Jandía Bike
With 6 editions, the Jandía Bike is becoming one of the events that cannot be missed on your calendar. 
This competition is part of the Fuerteventura-Lanzarote Interinsular Cup, and brings together more than 500 bikers. 
It includes two main modalities, the time-climb to Pico de la Zarza, and the race that runs between Morro Jable and Punta de Jandía.
Official page and registration
Fuerteventura Bestial Race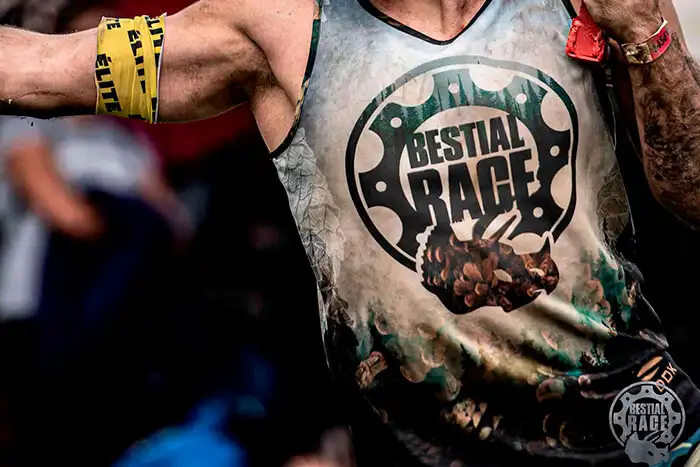 The Bestial Race are one of the most popular competitions in recent times. They are races in which, in addition to traveling a certain distance, you have to overcome a series of obstacles in order to complete the course. 
These competitions demand a great physical effort, coordination and ability to overcome, since they require certain skills, since you have to drag or carry weight, crawl through the mud, jump or climb walls, climb ropes, monkey bars, etc.
The part of obstacles is usually developed in a more or less small circuit. They are very spectacular and attract a large audience. The Fuerteventura Bestial Race usually takes place in the town of Las Playitas.
Official page and registration
Baifo Extreme Fuerteventura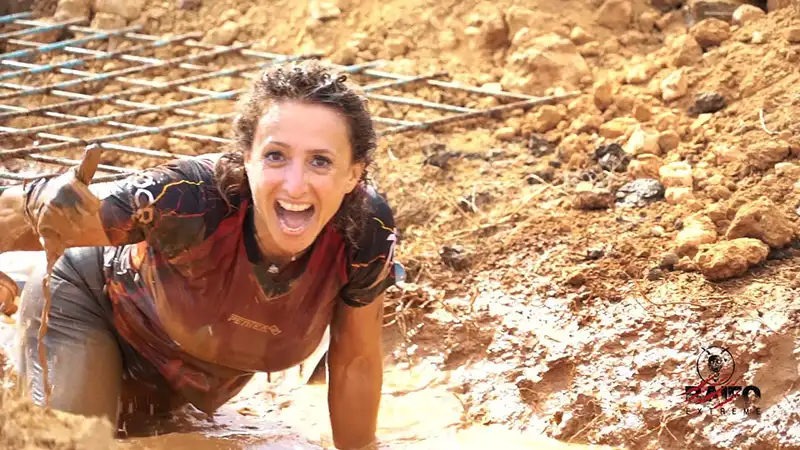 The Baifo Extreme is another obstacle course that you can enjoy in Fuerteventura. It takes place in the municipality of La Oliva and is organized by the Al Máximo Sports Club. 
The baiferos, as the participants of this event are colloquially called, must run 5 kilometers, and overcome during the course, a series of obstacles individually.
Official page and registration
Ocean Lava Fuerteventura
Ocean Lava Fuerteventura is a triathlon event: swimming, cycling and running. 
The Ocean Lava swimming course is 1.5 KM. It consists of completing 2 laps of a 750 meter circuit in Playa de los Pozos. From the beach it is necessary to take the bike, 42 km pedaling through the municipality of Puerto del Rosario. And to finish the Ocean Lava you have to run 10 km in a circuit along the Maritime Avenue of the capital of Fuerteventura.
Official page and registration
Fuerteventura Dunes Half Marathon
The Dunas de Fuerteventura Half Marathon is the perfect event  for those who like natural spectacles, sea, sun, dunes. It is one of the races with the longest tradition in Fuerteventura. It has already been 13 editions 
The event runs through the Natural Park of the Dunes of Corralejo, with a practically complete route on land. The main event is 21 km away. But there is another parallel race, El Quintillo, which is only 8 km long.
Official page and registration
Escanfraga Trail

 
La Escanfraga Trail, takes place in the town of Villaverde. It consists of climbing the volcanic cone of Escanfraga. On its descent, it passes through the base of Montaña Caima and the volcanoes of Pajaritos and Caldera Blanca.
 It is one of the toughest nature races in Fuerteventura. It stands out both for its positive elevation gain of 1,200 meters and for the spectacular views that can be had throughout the route.
 It has three modalities according to the distance to travel: 24 km, 17 km, and 10 km.
Official page and registration
Fuerteventura lighthouse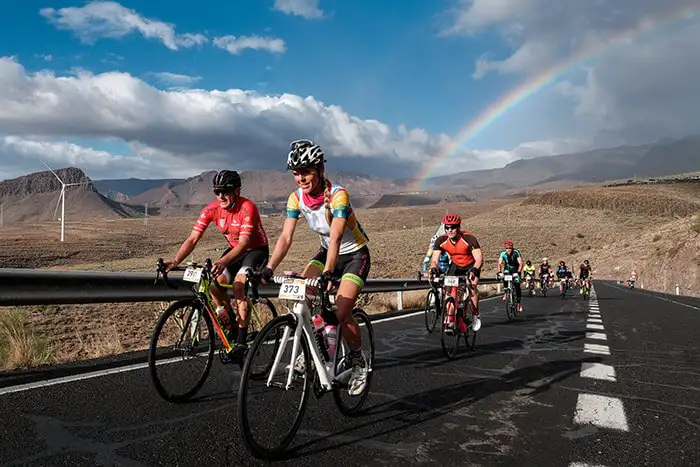 La Faro Fuerteventura is one of the newest road cycling events. In it you have the possibility of crossing the Island, through its center, until you reach the Jandía Lighthouse on the bike. 
It has a distance of around 120 km and takes place in a single day.
Official page and registration
Swimming crossing Isla de Lobos –

 

Fuerteventura Island
The Isla de Lobos swim crossing is one of the sporting events with the longest tradition in Fuerteventura. This event has been held for more than 22 editions. The Herbania Sports Club was its forerunner and it is usually organized in mid-October. It consists of swimming from the Isla de Lobos dock to El Muellito in Corralejo. 
It has two modalities: 
 Short of 3400 meters with a single journey from Lobos to Corralejo.
 Long of 7000 meters. It consists of 2 round trips from Lobos to Corralejo. This test is scoring for the Canary Islands Open Water Swimming Cup.
Official page and registration

Fuerteventura2 Fuerteventura1 Fuerteventura5 Fuerteventura6