What to visit in Corralejo?

 
Fuerteventura has all the necessary elements to make the visitor fall in love: extensive sandbanks, endless beaches and a crystal clear sea that are responsible for having earned the popularity of being an exceptional enclave, ideal for those seeking tranquility. A privileged climate does the rest. 
The north of Fuerteventura continues to make everyone who comes to this island fall in love. Corralejo, El Cotillo and Los Lajares are the three towns with the highest tourist demand in this part of the island. 
Today we give you the keys to discover Corralejo at your own pace.
Corralejo: tradition and sea.
Corralejo is located in the northeast of Fuerteventura. It was one of the first places on the island where the aborigines settled, back in the 1st century AD. You just have to take a walk through the undeveloped areas and discover endless archaeological remains. A few meters from the houses and the asphalt, you will see shell middens, petroglyphs, ceramic remains, and dry stone housing units, dating from before the European conquest. 
Due to its proximity to Lanzarote, Corralejo became, from the fifteenth century, one of the most important ports in Fuerteventura. Its population developed around the goat industry, coastal fishing, collecting orchilla, barilla, and grain milling. 
Its historic center houses three centuries-old ethnographic elements worth visiting: the Domingo Estévez mill, the Juan Morera mill and the Manolo Hierro mill, all of them restored and considered B.I.C (Well of Cultural Interest) since 1994.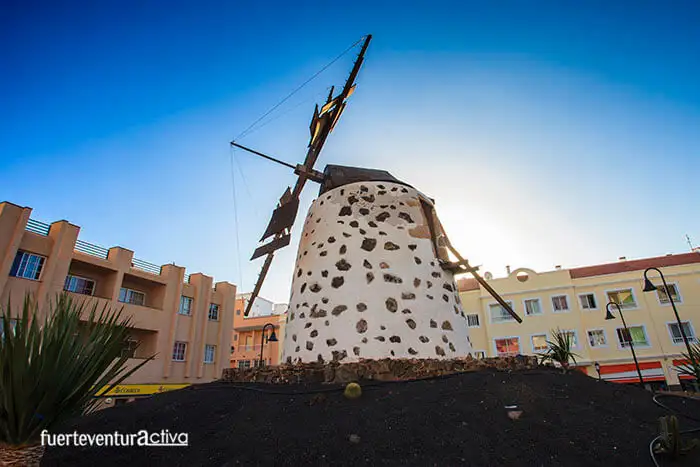 Corralejo is a town that has been able to move forward, adapting to the new times without losing the essence of the fishing village that was once 
Here you have a wide variety of services. You can taste the delicious international gastronomy on the beach, or go from the sea to a shopping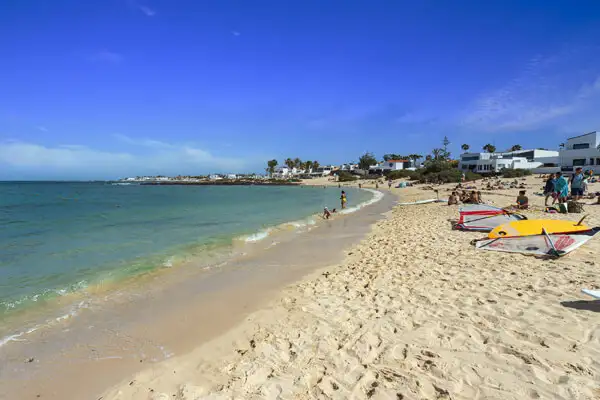 center in just 5 minutes.
The Beaches of Corralejo

 
There is no doubt that the beaches of Corralejo are what attract the most attention to the visitor. This cozy northern town is dotted with more than 20 official beaches, many of them ideal for enjoying with children. We will make a tour of the most significant. 
The first beach to enjoy the beauty of the northern landscape, with the Corralejo Dunes Natural Park as a backdrop, is Playa del Burro. This beach is located at km 19-20 of the FV-1a road. It is characterized by its sandy bottom and a particular wind that makes it truly attractive to surf lovers. It is a meeting point for various surf schools.
The Great Beaches of Corralejo are the undisputed protagonists of this part of Fuerteventura. Here, more than 3.5 kilometers of fine golden sand await you to enjoy its calm and crystal clear waters. You can also learn or practice surfing and kite surfing at the official schools.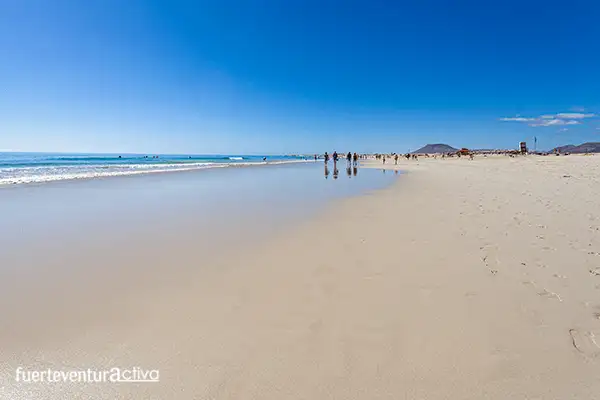 Going beyond the Grandes Playas we enter the urban area of Corralejo. On its side are the beaches of El Médano, Las Agujas, Los Verelitos, La Goleta, Corralejo Viejo and Muelle Chico. You can go from one to another without even realizing it.
Old Corralejo. This urban beach, 130 meters long and an average width of 21 meters, is located near the historic center of the town. Your occupation is high. Its careful golden sand, and its clean and calm waters have led to the Blue Flag being hoisted on it on several occasions.
 Here you also have the opportunity to practice different water sports: surfing, windsurfing and diving mainly 
Behind the beach there is a good variety of restaurants, shops and a shopping center.
Muelle Chico beach. It is an urban beach about 200 meters long and an average width of 25 meters. It is somewhat windy but ideal for families. Its sand is golden and the waters are calm. It has access for people with reduced mobility and showers.
 ** Be careful.** Due to sanitary problems, bathing in its waters has been prohibited for some time. 
When bathing is allowed, this beach is usually very crowded. And it is not surprising, because around it you have everything you need to enjoy a fabulous day at the beach: shops, restaurants and cafes. There is also the tourist office of the Town Hall of La Oliva. 
The Muelle Chico beach hosts various sporting events, including the arrival of the Isla de Lobos-Fuerteventura Swim Crossing, and the start of the Fuerteventura Island Triathlon. 
It is also a point of special attraction for devotees. Here the Virgen del Carmen disembarks every July 16, in a massive maritime-terrestrial procession that runs through part of the historic center of Corralejo and its waters.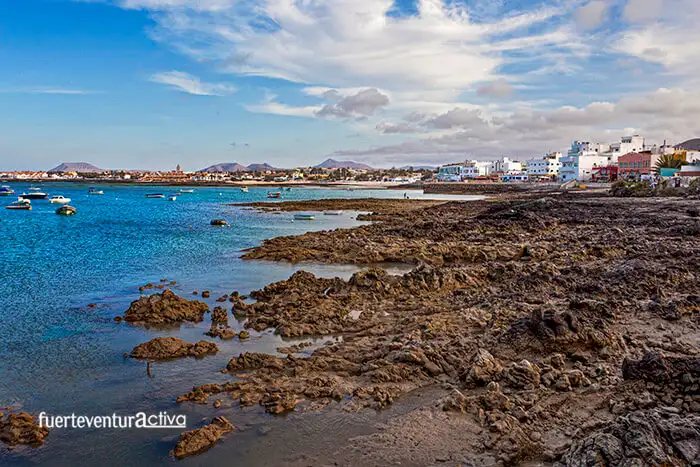 Where to buy in Corralejo?

 
As Corralejo is one of the most touristic towns in Fuerteventura, you will find supermarkets and shops that are open 7 days a week. 
The main supermarket chains are: Mercadona, Lidl, Hiperdino and Padilla. 
In addition, you have two shopping centers: El C.C. Las Palmeras on Avenida Nuestra Señora del Carmen, and the C.C. El Campanario on Minerva Street.
Remarkable events and festivals in Corralejo

.
 – Carnival of carnivals. Each year it is celebrated on different dates, between February and April. They are usually after the Carnivals of Puerto del Rosario.
 – Carmen Festivities. Corralejo is a fishing town. Its patron saint is the Virgin of Our Lady of Carmen. The festivities in her honor are celebrated around July 16. 
– International Kite Festival. It is one of the most massive and colorful events in Fuerteventura. It is celebrated between the last days of October and the first fortnight of November, for more than three decades.
 – International Blues and Jazz Festival. For more than fifteen years, this Jazz festival has been taking place in Corralejo with the participation of top-level musicians.
– Among the sporting events that take place in Corralejo, we highlight: the Dunas of  Fuerteventura Half Marathon (end of October) and Isla de Lobos – Isla de Fuerteventura swim crossing (beginning of October) 
Where to stay in Corralejo?

 
At FuerteventurActiva we have more than 15 tourist accommodation in Corralejo at your entire disposal. 
Beachfront accommodation: Casa Jimena, Old Corralejo beachfront apartment, El Castillito, beachfront villa.. 
Apartments in a private urbanization with swimming pools: Apartament Cometas I ,  Apartament Cometas II , Apartament Royal Corralejo, Royal Sunshine, Los Maestros
Accommodations to make you feel at home: Corralejo Verode, Casa Ana, Casa Victoria, Naiele ático estudio, Apartament Cactus, Casa Indra, Apartamento Gravina.
Fuerteventura4